#IgboNews – Ị ma ụmụnwaanyị ji ndị Super Eagles n'ọrụ?
Ọtụtụ ndị Naịjirịa nwere ntụkwasị obi na ndị na-agbara otu egwu Naịjirịa bụ Super Eagles bọọlụ, mana kedụ ndị bụ ndị nkwado ha oge ha na-anọghị n'ọdọ egwuregwu?
Ka onye ọbụla na-etinye anya n'ihe gbasara ndị otu Super Eagles, e nwere ndị ha debere n'ụlọ na-akwado ha n'asọmpi ma na-ele anya mgbe ha ga-alọta ka ha nwee ike nọkọọ.
Ndị ahụ bụ nwunye ha na ndị enyi ha nwaanyị.
Ndị a bụ ndị na-agba ha ume ma ọ dị mma ma ọ dị njọ.
Anyi ga-egosi gị ndị a dị mkpa na ndụ ndị Super Eagles.
Ndị ochee goolu
1) Ikechukwu Ezenwa
Ochee goolu Ikechukwu Ezenwa lụrụ nwunye ya bụ Amaka n'afọ 2013. Ha amụtala ụmụ nwoke atọ.
2) Daniel Akpeyi
Akpeyi bụ ochee goolu ndị Super Eagles lụrụ nwunye ya bụ Emmanuella n'afọ 2016.
Ndị na-agba n'azụ:
3) William Troost-Ekong
Troost-Ekong na-ejidere ndị Super Eagles azụ, na enyi ya nwaanyị ayịruola afọ anọ. Enyi ya nwaanyị dị ime nwa ga-abụ nwa mbụ ha.
4) Kenneth Omeruo
Omeruo na-agbara ndị Super Eagles n'azụ, lụrụ nwunye ya bụ Chioma n'ọnwa Mee 2018.
5) Chidozie Awaziem
Chidozie bidoro ịgbara Naịjirịa bọọlụ na 2017. Lee foto ya na enyi ya nwaanyị bụ Obiageli.
6) Elderson Echiejile
Echiejile lụrụ nwunye ya bụ Oghenevwemo n'afọ 2017. Ha mụrụ nwa ha nke mbụ n'ọnwa Maachị 2018.
Ndị egwu etiti
7) John Mikel Obi
Mikel na enyi ya nwaanyị bụ Olga Diyachenko ayịruola ihe ruru afọ ise. Ha mụrụ ụmụnwaanyị abụọ bụ ejima.
8) Onazi Ogenyi
Onazi lụrụ nwunye ya bụ Sandra n'afọ 2015. Ha amụtala otu nwa nwaanyị.
9) Wilfred Ndidi
Ndidi bidoro ịgbara Super Eagles n'afọ 2015. Ya na enyi ya nwaanyị bụ Chidinma ayịruola afọ abụọ.
10) Oghenekaro Etebo
Etebo bidoro ịgbara Naịjirịa n'afọ 2013. Ya na nwunye ya bụ Isi Ebhota amụtala otu nwa nwoke.
11) Joel Obi
Obi bidoro ịgbara Super Eagles n'afọ 2011. Ya na enyi ya nwaanyị amụtala otu nwa nwoke.
Ndị na-agba n'ihu
12) Odion Ighalo
Ighalo na nwunye ya bụ Sonia, alụọla ọtụtụ afọ. Ha mụtara ụmụ atọ bụ nwoke abụọ na otu nwaanyị.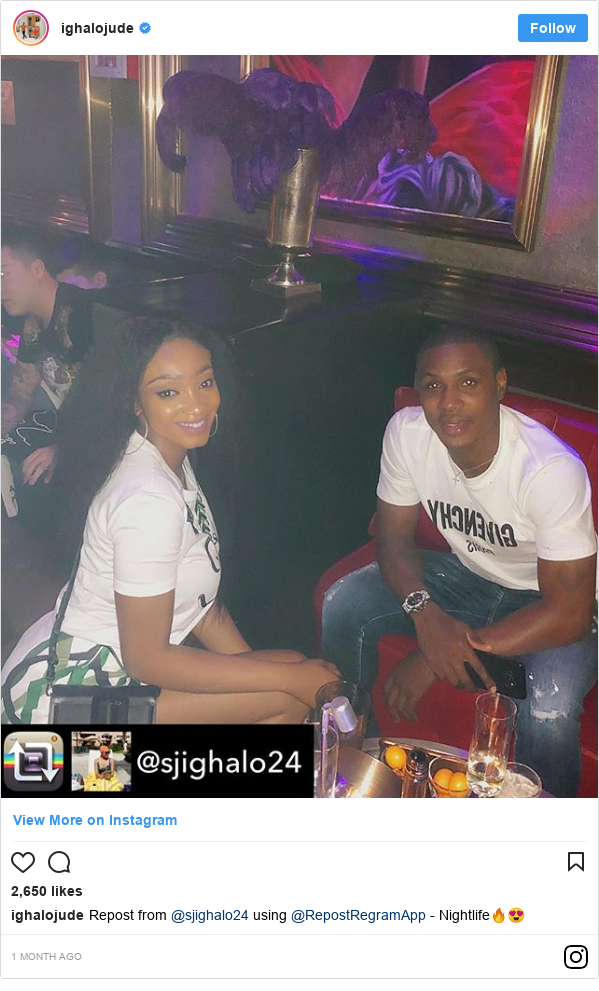 13) Ahmed Musa
Musa lụrụ Juliet n'afọ 2017 ka ya na nwunye ya nke mbụ na nne ụmụ ya abụọ bụ Jamila gbasara.
14)Victor Moses
Moses lụrụ nwunye ya bụ Josephine n'afọ 2017. Agbamakwụkwọ ya na-abịa ka ha mụchara ụmụ abụọ, otu nwoke nke a mụrụ n'afọ 2012 na nke nwaanyị a mụrụ n'afọ 2015.
Proud moment for me celebrating winning the Premier League with my family #blessed pic.twitter.com/c1abpX7wrt

— Victor Moses (@VictorMoses) May 23, 2017
Kedụ ndị ọzọ ị ma ụmụnwaanyị nọ na ndụ ha?
Emeka Ihedioha: 'Ya nyere anyị aka butuo ụgwọisi ụmụnwaanyị Mbaise'
Emeka Ihedioha bụ onye meriri na ntụliaka nke ọkwa gọvanọ emere n'Imo steeti ekwuola ọtụtụ ihe ọ ga-emere ndị Imo.
Otu n'ime ihe o kwuru na ọ ga-eme bụ imezi ihe mebiri emebi na steeti ahụ. Gere ihe ndị ọzọ o kwuru n'ihe nkiri a.
-Ebe a ka ị ga-amata ọnụọgụ vootu na ntuliaka Imo steeti
-Emeka bụ ihe dị ọha mma n'Imo
-Etu ntuliaka gọvanọ si aga n'ọwụwa-anyanwụ na ebe ndị ọzọ
Ka ndị mmadụ ka na-enwe aṅụrị maka mmeri Emeka Ihedioha meriri na ntuliaka ọkwa gọvanọ Imo steeti, ndị ọzọ ekwuola ihe ha chọrọ n'aka ya.
Ebe ụfọdụ na-achọ ka ọ rụọ ụzọ, ụlọọgwụ na ihe ndị ọzo, ụfọdụ chọkwara ka ọ kụtuo akpụrakpụ Rochas Okorocha rụrụ.
@JerryWright4 dere na Twitter sị ka Ihedioha lebanye anya n'ihe gbasara ibutu ụgwọisi ụmụnwaanyị Mbaise, maọbụ ka gọọmentị nyeretu ha aka ịkwụ ya bụ ụgwọ mgbe ha chọrọ ịlụ nwaanyị.
Congratulations our governor, @EmekaIhedioha. Please look into the bride price of Mbaise girls for eligible Imo bachelors like us. We don't mind if you pay us some form of subvention too when we indicate interest in them. Daalu

— Jerry Wright (@JerryWright4) March 12, 2019
Emeka Ihedioha kwere ndị Imo steeti nkwa na ọ gaghị awụ ha n'ala dịka ha si n'aka ntuliaka họpụta ya dịka onye ha chọrọ ka ha chịa.
O kwuru nke a site n'ihe o dere n'elu soshal midia, ebe o dere sị "Ndị Imo daalụ. Mmeri a bụ nke anyị niile! Agaghị m awụ unu n'ala! Okwu m bụ nkwa m na-ekwe!"
Thank you Ndi Imo.

It's a victory for all of us!

I will not fail!

My word is my bond. pic.twitter.com/nvbcLQ9n6B

— Emeka Ihedioha (@EmekaIhedioha) March 11, 2019
Cheta na Ihedioha nwetara vootu 273,404 iji merie ndị ọzọ ya na ha so zọo ọkwa.
Ihe ndị mmadụ chọrọ n'aka ya:
Charly boy si Imo steeti ma bụrụkwa onye ọnụ na-eru n'okwu n'ihe gbasara ndọrọndọrọ ọchịchị, kwuru sị na ọ na-atụ anya na ọchịchị Ihedioha ga-abụ olileanya nye ndị Imo. Ọ sịkwa ya "kwanyere onwe gị ugwu".
Emeka Ihedioha.
Congratulation for winning the Imo state governorship election. Ur party PDP or APC are to me both sides of a coin. However, I pray that your coming will be hope for Imo state.
Thank God is non of the other yahoo yahoo people, uche rochas etc etc.
Behave yaself. pic.twitter.com/abfzFyFc3S

— Charly Boy Area Fada 1 (@Areafada1) March 12, 2019
@MrStanleyNwabia kwuru na ihe mbụ Ihedioha kwesịrị ime ma ọ banye ọchịchị bụ ibugharị akpụrakpụ niile ahụ Rochas Okorocha kpụrụ, buga ya n'obodo Rochas.
Ihedioha's first executive act as Imo Governor should be to relocate all those Statues to Rochas Okorocha's country home.

— Mr Stanley Nwabia (@MrStanleyNwabia) March 11, 2019
@DuruchibuzorE kwuru na ugbua ka ọ ga na-alaruzi obodo ya makana Imo steeti esila n'aka "ndị na-akpụ" ihe pụta.
Now I can visit my hometown , Imo state has finally been freed from the clutches of the sculptor. Emeka Ihedioha should know that we are solidly behind you.

— Duru Chibuzor eric (@DuruchibuzorE) March 11, 2019
@DaChinagorom rịọrọ ya sị ya gbaa mbọ hụ na o mere ka Imo steeti bụrụ ebe a na-arụpụta ihe dịka Abịa na Anambara.
My new Governor, i hv few demands from u. Please take distinct measures to provide quality education, efficient medical services and make IMO state a manufacturing trade zone like our neighbors Abia and Anambra… 🙏

— O-B-I-N-N-A (@DaChinagorom) March 12, 2019
@iamLORDTM kwuru sị na ọ dị mma na a napụtara ọchịchị n'aka onye chọrọ ime ka ọ dịrị naanị n'ezinaụlọ ya.
The election result of Imo State just made me happy. No one man can be Governor and try to turn the state upside down just to make his son-in-law the next governor. This is a good day for we Imolites. #ImoDecides2019

— 𝕃𝕆ℝ𝔻 𝕋𝕄 (@iamLORDTM) March 11, 2019
@kingpado01 kwuru sị ka ọ gbaghachaa ala ndị "e zuru ezu".
Please revoke all stolen lands..

— ATIKULATED (@kingpado01) March 11, 2019
@Buchyogba kwuru sị ya gbaa mbọ rụgharịa ụzọ ndị adịghị mma, kwụọ ndị ọrụ bekee e ji ụgwọ ọnwa, ma nyochaa ọchịchị Rochas.
U cant afford to fail

Clear outstanding workers salaries&pensions

Rehabilitate all failed roads

Reinstate all illegally sacked state workers

Revoke all lands forcefully collected by Rochas

Relocate ITC back to it's former place

Probe Rochas administration

Cc: @realRochas

— Buchy Strategy (@Buchyogba) March 12, 2019
Advertise your organization's announcements and opportunities in enterNigeria's daily email. Special rates for long-term buys. Email enternigeria@enternigeria.com for details.
Aguleri , The Citadel Of Igbo Civilisation
Five years after Boko Haram kidnap, 112 Nigerian girls still missing
Announcements, Arts & Books
Driving Job Creation for Africa's Youth:  Mentor to Watch.
Ada Osakwe, CEO of Agrolay Ventures
Ada is an award-winning food entrepreneur and investor. She was also a lead in the launch of the Youth Employment in Agriculture Program (YEAP) that supported the rise of a new cadre of food-entrepreneurs in Nigeria through training, mentorship and financing. Ada is a Young Global Leader of the World Economic Forum and a Desmond Tutu Leadership Fellow.
In 2016, she was Entrepreneur of the Year and featured on Choiseul 100 Africa list consecutively from 2016 to 2018. She received the 'Achiever in Agriculture' Award and was on the 2014 Forbes 20 Youngest Power Women in Africa list. She is also a mentor on the Future Global Leaders Fellowship.
Uzodinma Iweala : CEO of The Africa Center in New York.
Uzodinma is an award-winning writer, filmmaker, and medical doctor. He is the CEO of The Africa Center in New York, promoting a new narrative about Africa and its diaspora through a focus on culture, policy and business. He is the author of three books: Beasts of No Nation (2005), a novel also adapted into a major motion picture; Our Kind of People (2012), a non-fiction account of HIV/AIDS in Nigeria; and Speak No Evil (2018), a novel about coming-of-age in Washington, D.C. His books have been mentioned by Time Magazine, The New York Times, Entertainment Weekly, The Times and Rolling Stone. 'Uzodinma Iweala completed his undergraduate studies at Harvard University and he earned a medical degree at Columbia University's College of Physicians and Surgeons.'
ENTER NIGERIA Winning Sunday with The Young Netpreneur for the Week :Ken Nwadiogbu @kennwadio
Ken Nwadiogbu (b. 1994) is a Nigerian born Multidisciplinary Artist, popularly known as KenArt, whose practice is primarily centered around hyper-realistic drawings and works on paper.
Nwadiogbu believes that the society speaks- This voice inspires his art, which evaluates, interrogates and challenges socio-political structures and issues within the society. In his reply to this society, he is able to inspire one or two people to also re-valuate their socio-political structures as we know it. The desire to change his society and the way people think is what drives him to create art every day. Gender equality, African cultures, and Black power are a few aspects of his current research and artistic practice.
Nwadiogbu was born in Lagos, Nigeria and holds a B.Sc in Civil and Environmental Engineering from the University of Lagos, Nigeria. His art career started in the university, and with no formal training, has pushed him to become one of the most interesting young contemporary artists from Nigeria, creating works that question life- calling out some of the problems and becoming very grounded in human consciousness..
Nwadiogbu has been featured in lots of local and international group exhibitions and fairs, including the Insanity exhibition, sponsored by Frot Foundation, in Omenka Gallery, Nigeria; the TMC's It's Not Furniture, curated by Winifred Okpapi; the Artyrama's group exhibition curated by Mr Jess Castellote; Art X Lagos, sponsored by Artyrama Gallery, in Lagos, Nigeria; the Moniker Art Fair, sponsored by Creative Debuts, in Brooklyn, NYC; the Anti-Trump show organised in UK; the Afriuture Exhibition by Ramati Art Africa in association with Commonwealth Africa Summit, in Toronto, Canada; amongst many others. He has been televised and publicized on different platforms like Guardian Life, Tush Magazine, WIRED Magazine, Candid Magazine, Bored Panda, BBC, CNN, and more as well as inspiring and encouraging young creatives through public speaking appearances like TEDx. He co-founded Artists Connect NG, the largest Nigerian artist gathering that took place at Lekki Leisure Lake, in Lagos, Nigeria.
To Nwadiogbu, Art is indeed timeless, it is his solace and hiding place, a safe haven he has found to be devoid of restrictions, boxes and boundaries.